Yu-Kai Lin
Department of Computer Information Systems
Center for Digital Innovation
Robinson College of Business, Georgia State University
Atlanta, Georgia 30303
Email: yklin@gsu.edu
Phone: +1 (404) 413-7360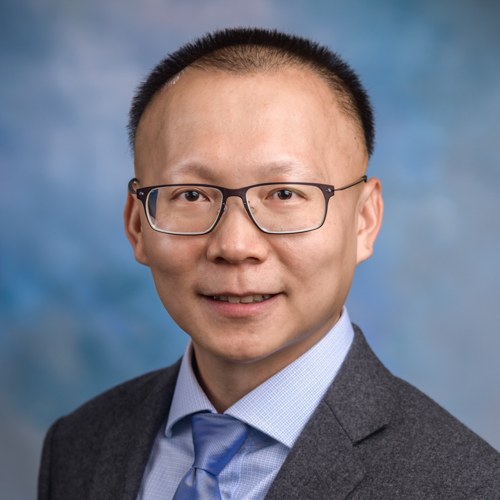 ---
Employment
| | | | |
| --- | --- | --- | --- |
| 2017– | Assistant Professor | Robinson College of Business, Georgia State University | Atlanta, GA |
| 2015-2017 | Assistant Professor | College of Business, Florida State University | Tallahassee, FL |
| 2010-2015 | Research Associate | Artificial Intelligence Lab, University of Arizona | Tucson, AZ |
Education
2010-2015
Ph.D. in Business Administration
Eller College of Management, University of Arizona (Tucson, AZ)
- Major: Management Information Systems
- Minor: Economics
- Dissertation: Health Analytics and Predictive Modeling: Four Essays on Health Informatics
2004-2006
M.B.A. in Technology Management
College of Technology Management, National Tsing Hua University (Hsinchu, Taiwan)
2000-2004
B.B.A. in Information Management
College of Business, Chung Yuan Christian University (Taoyuan, Taiwan)
Research
Domains: Artificial Intelligence, Open Collaboration and Innovation, Intellectual Property, Health IT
Methods: Econometric Modeling, Machine Learning, Unstructured Data Analytics
Journal Publications
Yu-Kai Lin*, Arun Rai*, and Yukun Yang* (forthcoming) "Information Control for Creator Brand Management in Subscription-Based Crowdfunding," Information Systems Research (* equal authorship)
Yu-Kai Lin and Likoebe Maruping (forthcoming) "Open Source Collaboration in Digital Entrepreneurship," Organization Science
Yu-Kai Lin and Xiao Fang (forthcoming) "First, Do No Harm: Predictive Analytics to Reduce In-Hospital Adverse Events," Journal of Management Information Systems
Yu-Kai Lin, Mingfeng Lin, and Hsinchun Chen (2019) "Do Electronic Health Records Affect Quality of Care? Evidence from the HITECH Act," Information Systems Research (30:1), pp. 306–318.
Yu-Kai Lin, Hsinchun Chen, Randall Brown, and Shu-Hsing Li. (2017) "Healthcare Predictive Analytics for Risk Profiling in Chronic Care: A Bayesian Multitask Learning Approach," MIS Quarterly (41:2), pp. 473-495.
Yu-Kai Lin, Hsinchun Chen, Randall A Brown, Shu-Hsing Li, and Hung-Jen Yang. (2014) "Time-to-Event Predictive Modeling for Chronic Conditions Using Electronic Health Records," IEEE Intelligent Systems (29:3), pp. 14-20.
Yu-Kai Lin, Hsinchun Chen, and Randall A. Brown. (2013) "MedTime: A Temporal Information Extraction System for Clinical Narratives," Journal of Biomedical Informatics (46), pp. S20-S28.
Work in Progress and Working Papers
Patent Protection and Software Innovation: Evidence from Alice (with Arun Rai; under review at Information Systems Research) [SSRN]
Toward a Better Understanding of AI Innovations: Evidence from U.S. Patents (with Likoebe Maruping) [SSRN]
Conference Papers and Presentations
Patent Protection and Software Innovation: Evidence from Alice (with Arun Rai); The 2021 Workshop on Information Systems Economics (WISE 2021)
Toward a Better Understanding of AI Innovations (with Likoebe Maruping); The 2021 Conference on Information Systems and Technology (CIST 2021)
Toward a Better Understanding of AI Innovations (with Likoebe Maruping); The 2020 Workshop on Information Technologies and Systems (WITS 2020) – Best Paper Nomination
Restricting the Scope of Software Patent Protection: Beneficial Evidence of Alice (with Arun Rai); The 2020 INFORMS Conference on Information Systems and Technology (CIST 2020)
Open Source Collaboration in Digital Ventures (with Likoebe Maruping); The 2020 INFORMS Conference on Information Systems and Technology (CIST 2020)
Getting Behind Closed Doors: Developing Fan Engagement in Subscription-Based Crowdfunding (with Arun Rai and Yukun Yang); The 2019 Workshop on Information Systems and Economics (WISE 2019)
Getting Behind Closed Doors: Developing Fan Engagement in Subscription-Based Crowdfunding (with Arun Rai and Yukun Yang); The 2019 INFORMS Conference on Information Systems and Technology (CIST 2019)
A Prediction Model for Adverse Events in Hospitalized Patients (with Xiao Fang); The 2018 INFORMS Conference (INFORMS 2018)
First, Do No Harm: Predictive Analytics for Risks of In-Hospital Adverse Events (with Xiao Fang); The 2017 INFORMS Data Science Workshop (DS 2017)
Differentiating the Impacts of Adoption and Use on Organizational Performance: The Case of Electronic Health Records (with Mingfeng Lin and Hsinchun Chen); The 2017 Winter Conference on Business Analytics (WCBA 2017)
Healthcare Predictive Analytics for Risk Profiling in Chronic Care: A Bayesian Multitask Learning Approach (with Hsinchun Chen, Randall Brown, Shu-Hsing Li, and Hung-Jen Yang); The 2017 Winter Conference on Business Analytics (WCBA 2017)
To Join or To Take Over: External Corporate Ventures and the Choice between Investment and Acquisition in the IT Industry (with Mingfeng Lin and Xinlin Tang); The 2016 Workshop on Information Systems Economics (WISE 2016)
Bayesian Multi-Task Learning for Risk Profiling in Chronic Care (with Hsinchun Chen, Randall Brown, Shu-Hsing Li, and Hung-Jen Yang); The 2015 INFORMS Healthcare Conference
Beyond Adoption: Does Meaningful Use of EHR Improve Quality of Care? (with Mingfeng Lin and Hsinchun Chen); The 2014 Workshop on Information Systems Economics (WISE 2014)
Healthcare Analytics and Clinical Intelligence: A Risk Prediction Framework for Chronic Care (with Hsinchun Chen, Randall Brown, Shu-Hsing Li, and Hung-Jen Yang); The 2014 Workshop on Information Technologies and Systems (WITS 2014) – Best Paper Nomination
Predictive Analytics for Chronic Care: A Time-to-Event Modeling Framework using Electronic Health Records (with Hsinchun Chen, Randall Brown, Shu-Hsing Li, and Hung-Jen Yang); The 2014 INFORMS Conference on Information Systems and Technology (CIST 2014)
Beyond Adoption: Does Meaningful Use of EHR Improve Quality of Care? (with Mingfeng Lin and Hsinchun Chen); The 2014 INFORMS Conference on Information Systems and Technology (CIST 2014)
Beyond Adoption: Does Meaningful Use of EHR Improve Quality of Care? (with Mingfeng Lin and Hsinchun Chen); The 5th Annual Workshop on Health IT and Economics (WHITE 2014)
MedTime: A Temporal Information Extraction System for Clinical Narratives (with Randall A. Brown, and Hsinchun Chen); The 2012 i2b2 Workshop
Automatic Learning of A Supervised Classifier for Patent Prior Art Retrieval (with Hung-Chen Chen, Chih-Ping Wei, and Chin-Sheng Yang); The 2010 Pacific Asia Conference on Information Systems (PACIS 2010)
Exploiting Item Heterogeneity for Collaborative Filtering Recommendation (with Hung-Chen Chen, Chih-Ping Wei, and Ying-Siou Dai); The 4th China Summer Workshop on Information Management (CSWIM 2010)
Deriving Technology Roadmaps with Tech Mining Techniques (with Fu-Ren Lin, Chih-Ping Wei, and Yu-Liang Shyu); The 2008 Pacific Asia Conference on Information Systems (PACIS 2008)
Invited Presentations
Southern University of Science and Technology, Department of Information Systems and Management Engineering, November 2021 (scheduled): Patent Protection and Software Innovation: Evidence from Alice
Auburn University, Department of Systems and Technology, November 2020: Patent Protection and Software Innovation: Evidence from Alice
ETH Zurich, MIS seminar, December 2019: First, Do No Harm: Predictive Analytics to Reduce In-Hospital Adverse Events
University of Georgia, Department of Management Information Systems, April 2019: Getting Behind Closed Doors: Developing Fan Engagement in Subscription-Based Crowdfunding
Georgia State University, Department of Computer Information Systems, March 2017: Healthcare Predictive Analytics for Risk Profiling in Chronic Care: A Bayesian Multitask Learning Approach
Florida State University, Department of Entrepreneurship, Strategy, and Information Systems, January 2015: Beyond Adoption: Does Meaningful Use of EHR Improve Quality of Care?
Indiana University, Operations and Decision Technologies Department, December 2014: Beyond Adoption: Does Meaningful Use of EHR Improve Quality of Care?
University of Cincinnati, Department of Operations, Business Analytics, and Information Systems, September 2014: Healthcare Analytics and Clinical Intelligence: A Risk Prediction Framework for Chronic Care
Awards, Honors, and Grants
Best paper nomination, Workshop on Information Technology and Systems (WITS), 2020
First Year Assistant Professor Award: Innovation and Entrepreneurship in Digital Health ($20,000), Florida State University, 2016
Planning Grant: Understanding the Impacts of Information Technology and Business Analytics in Healthcare ($13,000; with Xinlin Tang), Florida State University, 2015
The Wharton Customer Analytics Initiative (WCAI) Research Opportunity, 2015
Best paper nomination, Workshop on Information Technology and Systems (WITS), 2014
Selected participant, the Americas Conference on Information Systems (AMCIS) Doctoral Consortium, 2014
Professional Services
Professional Service Activities
Associate Editor

MIS Quarterly (Guest AE), 2018, 2020
MIS Quarterly (Special issue AE: "Digital Resilience"), 2020
International Conference on Information Systems, 2019-2021
Pacific Asia Conference on Information Systems, 2016, 2022

Ad-hoc Reviewer (Journal)

MIS Quarterly (MISQ)
Information Systems Research (ISR)
Management Science
Journal of Management Information Systems (JMIS)
Journal of the Association for Information Systems (JAIS)
Production and Operations Management (POM)
ACM Transactions on Management Information Systems (TMIS)
INFORMS Journal on Data Science (IJDS)
INFORMS Journal on Computing (JOC)
ACM Transactions on Data Science
Decision Sciences
Information & Management
Artificial Intelligence in Medicine
IEEE Intelligent Systems
Journal of the Association for Information Science and Technology (JASIST)

Ad-hoc Reviewer (Conference)

ICIS: International Conference on Information Systems, 2014-2020
CIST: Conference on Information Systems and Technology, 2014-2016, 2020-2021
WITS: Workshop on Information Technologies and Systems, 2014, 2016
INFORMS Conference on Data Science, 2017
International Conference for Smart Health, 2017, 2019
International Conference on Service Science and Innovation, 2020
ECIS: European Conference on Information Systems, 2016-2017, 2019
AMCIS: The Americas Conference on Information Systems, 2015
PACIS: Pacific Asia Conference on Information Systems, 2014, 2016
AMIA: American Medical Informatics Association Annual Symposium, 2014

Reviewer for Grant Proposals

Research Grants Council of Hong Kong
Maryland Industrial Partnerships Program
Service Activities Internal to the University
Member, Analytics Pathway Task Force for MBA Course Redesign (2018)
Faculty Adviser, GSU Student Chapter of the Association of Information Technology Professionals (April 2018–Present)
PhD Dissertation Committee Member
Junyoung Park (Status: Dissertation proposal)
Yanran Liu (Status: Completed in 2021)
Heeseung Lee (Status: Completed in 2021)
Xinying Liu (Status: Completed in 2020)
Teaching Experience
Georgia State University
CIS 8392: Topics in Big Data Analytics (Graduate)
CIS 8045: Unstructured Data Management (Graduate)
CIS 8040: Fundamentals of Database Management Systems (Graduate)
CIS 4730: Unstructured Data Management (Undergraduate)
Florida State University
ISM 4117: Business Intelligence (Undergraduate)
University of Arizona
MIS 373: Basic Operations Management (Undergraduate)
Professional Memberships
Association for Information Systems (AIS)

AIS SIGDITE (Digital Innovation, Transformation, & Entrepreneurship)

Institute for Operations Research and Management Sciences (INFORMS)

INFORMS Information Systems Society

Academy of Management (AOM)

Organizational Communication & Information Systems
Entrepreneurship
Computer Skills
Programming Language: C, C++, JAVA, Python, R, SQL, Stan
Databases: MySQL, Oracle, PostgreSQL, MongoDB
Operating Systems: Windows, Linux